Welcome to Pell Animal Clinic and Farm Veterinary Services
Your Veterinarian in Rocky Mount, VA
Call us at (540) 483-7444
Pet Emergency? Call us right away at (540) 483-7444!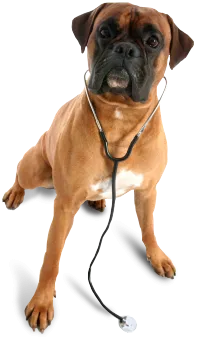 If you live in Rocky Mount or the surrounding area and need a trusted veterinarian to care for your pets – look no further. Dr. Tony Hutchins, Dr. Christopher Sumner and Dr. Clint Martin are licensed VA veterinarians, treating all types of pets. Your pets' health and wellbeing are very important to us, and we take every possible measure to give your animals the care they deserve.
Our Mission
We strive to offer the highest quality standards of any veterinary facility. Our staff members are dedicated to the care of animals and are willing to do whatever is necessary to make your pet comfortable. Our facility provides a wide variety of pet products and services including full veterinary services, pet grooming, and pet boarding. Regardless of your pet's stage in life, we provide services and products to keep them healthy.
Think of our facility as a place of healing, warmth, and goodwill. With a staff dedicated to the best interest of both the patient and client, we strive to fulfill our mission of providing the most comprehensive veterinary care. Each veterinarian and team member is deeply committed to your pet's health and well-being. We fully dedicate ourselves to providing top-notch, personalized medical care in an environment that is both welcoming and comfortable for you and your loved companion.
We are happy to offer a number of resources that enable you to learn about how to take better care of your pets. Please feel free to browse our site, particularly the informational articles. The best veterinary care for animals is ongoing nutrition and problem prevention, so becoming knowledgeable about preventative pet care is essential to the ongoing success of your animal's health. If you have any questions, call (540) 483-7444 . Our Rocky Mount office is very easy to get to -- and you can find directions on our Contact Us page! We also welcome you to subscribe to our newsletter, which is created especially for Rocky Mount pet owners.
We look forward to seeing you soon!
Dr. Tony Hutchins, Dr. Christopher Sumner, and Dr. Clint Martin
Rocky Mount Veterinarian | Pell Animal Clinic and Farm Veterinary Services | (540) 483-7444
600 Old Franklin Turnpike
Rocky Mount, VA 24151